January 7, 2020
My Homemade English Scones
Posted by: Mark Jerde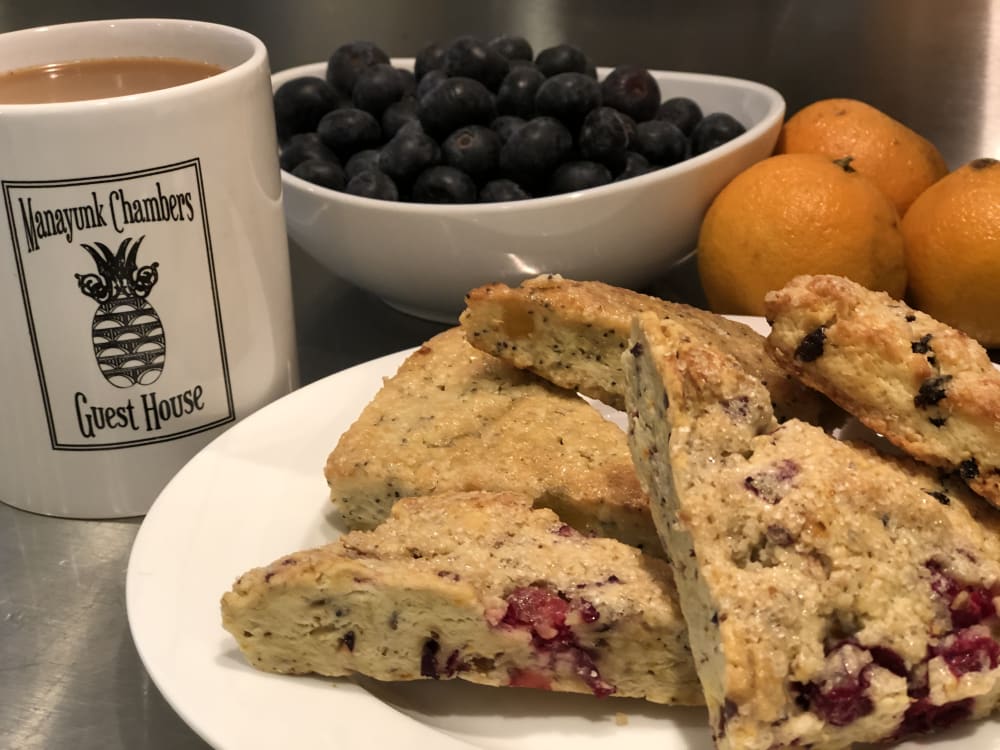 Guests often request recipes for dishes served at breakfast, so each month we will share one of Mark's recipes. We hope that you enjoy this month's recipe! This Scone Recipe is our most requested. ENJOY
Ingredients:
Combine:
4 cup AP Flour
1 cup Granulated Sugar
1 tsp Salt
1 tsp Bkg Pwdr
1/4 tsp Cr of Tartar
Cut in:
Stir in:
1 cup Dried Fruit of Choice (raisins, currants, chopped apricots etc.)
1/2 cup toasted Nuts of choice (walnuts, pecans, cashews etc.)
Combine:
8 oz Sour Cream
1 t Bkg Soda
(Mix to combine and let sit for 5 minutes) and add
1 Beaten Egg to Sour Cream and BSMixture
Then combine with Dry Ingredients to moisten
Press crumbly dough into a 1/4 sheet baking pan and roll to flatten
Cut the dough into 4x4 squares then cut each square from corner to corner to create individual triangle shapes.
Freeze scone dough for up to month
Place the desired number of frozen scones on a parchment lined sheet pan and bake at 400 degrees for 14 minutes or until golden in color